Disclaimer: This post is for informational purposes only. I am not a couponing expert and cannot be held responsible for any errors that may occur during your couponing experiences. At times store rules and store policies can and will change, making some information provided on this blog to become incorrect. I will do my best to always provide the most accurate information but again - I am no expert.
If you're new to couponing, start here:
I have my coupons! Now what?
Did you get your coupons? That's fantastic! There's a lot that goes into couponing, so for the first few weeks, take your time to learn the process and don't sweat the coupons piling up!
I know...
You are reading to get out there and get your stock pile started! Keep in mind that you'll need to collect coupons for a month or so and get a good pile started to really get into it. Stock piles don't come over night. It takes weeks and months to get it put together. Couponing is not an overnight process, so don't feel rushed! You will most likely NEVER use all your coupons before they expire, for various reasons, so don't sweat it!
First things first: Lets go over what kind of coupon booklets (typically referred to as "inserts") are provided in the Sunday papers.
-Smart Source
-Red Plum
-Proctor & Gamble (P&G)
Now what you'll need to do is figure our which organization method works better for you. There are two basic types that are used by couponers: The filing method and the binder method. I have been doing this for 4 years and I still can't decide which one I prefer, however the filing method has been doing great for me:
The Filing method
: The filing method can be used in a couple different ways. You can purchase some type of accordion filer and file your inserts (an insert is the coupon packet you get out of the Sunday paper) by date, or you can file them by category like the binder. The good thing about this is that you can essentially "drop and go" every coupon within that category in one place, instead of having to place all your coupons in the baseball card slots. It can also be less bulky to carry, as couponing binders can get pretty big. You'll have to decide which works best for you based on how many coupons you're actually working with, and how organized you like to be. I actually purchased a plastic shoe box style plastic container, labeled standard mailing envelopes with the different categories (same as listed below), and stuffed all the coupons for that category in the envelopes. I like that way, but I also like to SEE my coupons when i'm comparing prices, so, as I mentioned before, I switch back and fourth depending on how many coupons I'm working with. Right now, I use my filer, and when i see a deal, i clip the coupons I will need to use, and put them in a small accordion file in my purse, with the tabs labelled by store.
The Binder Method
: The binder method is the most appealing to the eye, but more work. With the binder method, you can order clear baseball card sleeves (look online at amazon or ebay for the best price) and place them in a binder. You can then cut out all of your coupons, stacking all the like ones together, and place them in your binder, organized whichever way is best for you. Some couponers organize alphabetically, some by isle, and others by product type. Here is what categories I typically use when sorting my coupons - some of these may seem pretty specific but this is what worked best for me based on my shopping style.
Bake Goods
Battery
Body Wash/Lotion
Box Dinner
Breads
Can Goods
Candy
Cereal
Cleaning
Clothes
Coffee/Sugar
Dairy
Dental
Deoderant
Diaper
Dog
Drinks
Frozen Food
Laundry
MakeUp (Cosmetics)
Meat
Meds
Oil
Paper Goods
Pillsbury (I like them to have their own group, but thats just me!)
Restaurant
Salad
Seasonings
Shampoo
Shaving
Smell Good Stuff (Febreez, Air Wick, etc)
Snack
Tampons
Toys
I recommend trying both. While you're purchasing those items, here is a list of other items I recommend you have on hand:
Binder
Baseball card sleeves
Plastic Shoe Box
Scissors
Calculator
Red Pen
Black Pen
Envelopes
Paper Cutter
- The more heavy duty, the better. The one I have is similar to this one: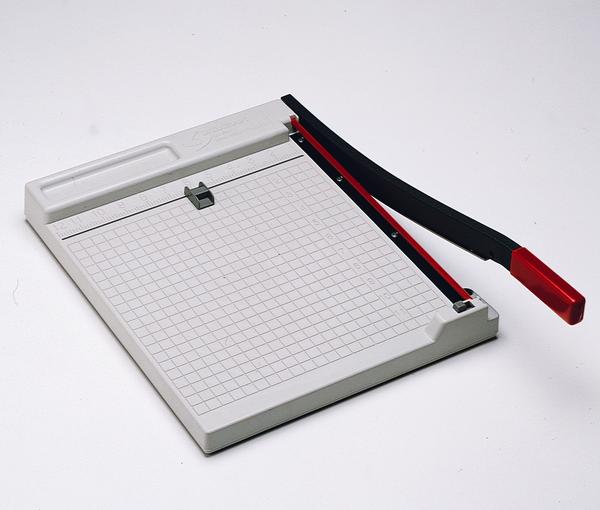 Once you figure out which method is best for you (for now) you can soon begin your couponing adventures! That's all for this post, but until the next, make it a habit to grab sales ads at every store you go to. There are also Apps to download with the flyers contained within. That info will be posted soon.
Advertisement: